Well after punting to Islip, I've been dwelling on the next obvious step... the 260 miles to Cambridge. Its apparently been done only 2 or 3 times before. I've reccied the route, apparently its straight up the Oxford canal and then over.
I've made a new journal for my Tolkien and artistic musings. Here I hope to put up pictures of my own work, other Tolkien artists I find, musings on Tolkien and art, art in general and any inspiration I can think of.
The lj is here at
tears_of_trees
Coming soon: A review of Alan Lee's beautiful illustrations for the Children of Hurin
I was going to leave this for a while until I had a few more entries, but alas I'm too impatient.
It ws such a beautiful evening that I walked the long way round Christ Church meadow to the Manor, stopping by the river to watch the rowers pound their way along the dappled waters of the Isis, and sit in the golden sun to finish Lies of Locke Lamora.
Later, lost in the beauty of the light of a late Spring evening, a patch of bluebells catching the sun just had to be photographed. It makes me just a little bit wistful; it reminds me powerfully of this song, maybe just substituting Marion Bridge for Christ Church meadow;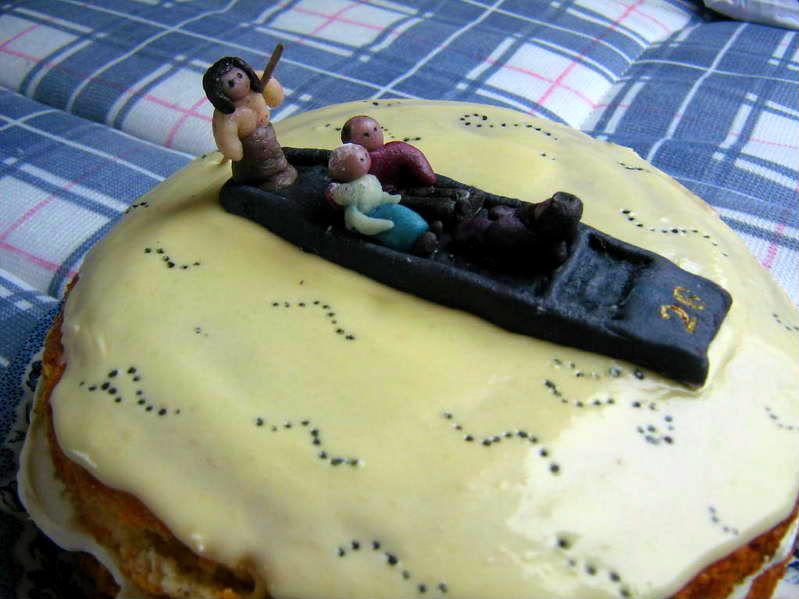 So thats me punting us...
It was Miss Shore's birthday on Sunday and to celebrate the fact that it'll be another 5 months until I'm *that* old (as old as I thought she was the first time I met her 5 years ago!), and the fact that her parents were visiting from America I made a cake to celebrate...


Light in the morning. The cool dryness of stone. Flowers in the child's hand. Powder blue wellies on the feet. A long green cloak embroidered with flowers. Men in robes, ladies in straw hats. Limp oak leaves on a rucksack. A disparate group, but together for a single purpose - upholding tradition.

A collage of colleges. Warm honey stone under morning skies. Neat grey shadows cutting bright green grass. Cherries remembering their predecessors.Cold marble holding aged books, watched by a stone ghost. Beautiful corners and secrets. A dripping fountain in flowers.

Chalk marking stone, cross upon cross. A mark of the year, some faded, some gone. A renewal of time, a step out of time.

Songs in the squares, faces at the window. Bright sweets from the sky. A ladder up a wall. Cones in the darkness of wood. Bright lights from the glass, spilling colours over the stone.

There is a reason for tradition.

A 500 year old tradition.
(Can you tell I've been downloading all the photos off my camera?)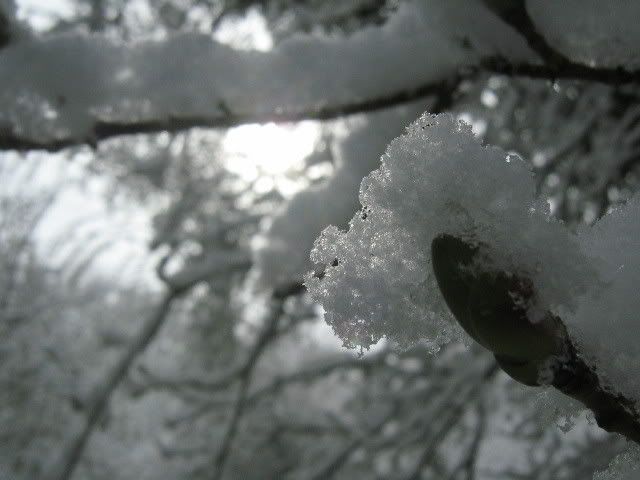 http://s17.photobucket.com/albums/b99/LadyVetinari/Wallingford%20in%20the%20Snow/
My 13 year old sister had a new camera for Christmas and has been enthusiastically playing with it. In order to liven up our traditional Good Friday walk we decided to have a photo competition with the theme of 'The Spirit of Easter'.